Wedding Photography
Los Angeles Wedding Photography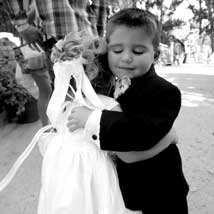 I love weddings. They are happy, joyous events that bring out the best in emotions and reactions (which makes them a photographer's playground). Every photographer that shoots a wedding should have this outlook, since it directly affects their performance and presence.

There are two sides to wedding photography right now: traditional versus photojournalism. Traditional wedding photography involves posed shots and formals with the stapled shots you see from older wedding photos. Wedding photojournalism (or PJ for short) is more candid and is based on gathering unscripted reactions and gathering photos from a distance. This is less intrusive, which means that shots are authentic, but also very hard to get since they are not directed.

Within traditional photography, there are two types: documentary style (just taking a picture) and artistic style (adding creative flair/look). Posed artistic wedding photography shots are great in the sense that the photographer, like in a fashion shoot, has control over the way the picture will look and is only limited by their vision. Documentary styles strive to just capture it for what it was.

Compromises between traditional photography and photojournalism include combining the two. This is often done by having the lead photographer pose the shots and a second shooter captures images candidly off to the side. Another compromise is posed photojournalism, where the couple acts as if the shot is unscripted. This usually gives the photographer more control over the image while still getting the attractive, natural look of photojournalism.
Orange County Wedding Photography
For Orange County wedding photography, Los Angeles wedding photography, Orange County wedding photojournalism, southern california wedding photography, call Gavin at 323.605.4224 to reserve date and ask any questions that you may have concerning my services. I am a Los Angeles wedding photographer (Orange County included).
I also do corporate event, concert, red carpet, family portrait, fashion, sports, and professional engagement photography. I shoot only with digital cameras, which leads to a quick turnaround time for the digital negatives.