Gavin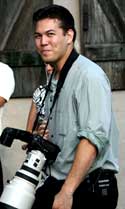 I am:
A happy guy tall mellow
a geek at heart technical and artistic
stoked to take pictures of Judy
As a graduate from UCLA Engineering, I found a passion for wedding videography as I worked in a not-so-interesting computer job. From there I started a full-time business that is now expanding into photography, another medium I absolutely love. I came into photography with a photojournalistic approach, branching from my candid style of videography. I found this to be my ideal way capturing a wedding, since my wedding photojournalism has a natural beauty that only an unposed subject can provide.
Oscar Levant once said:
Happiness isn't something you experience;
it's something you remember.
My obligation is to provide a view of each wedding day through my eyes, in a way that each bride and groom has never seen and will never see until after the wedding. I have seen how my talents, experience, and vision have made people happy. I hope to do the same for you.
Judy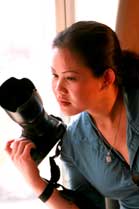 Judy is:
personable goofy sweet
a sucker for teddy bears
a romantic in love with gavin

Judy Tran is my second photographer / lead-in-training. Pharmacy technician by day, student by night, and photographer on weekends, Judy is is a bright and sweet girl thats adds a great dynamic to each wedding. She adds her own unique perspective in her photographs and her charm eases the awkwardness of being photographed. She also adds a feminine presence, which is great for when you are getting into your wedding dress or what not.
Judy is fluent in Vietnamese and understands both Mandarin and Cantonese.
I'd recommend her as a second photographer if you:
-want the extra pictures (around 500-1000 extra)
-have a large wedding and want the extra coverage
-want the extra photojournalistic shots as people are distracted by the lead photographer
-have a longer day (I eventually get tired and a second is great for pacing)