Professional Engagement Photography
For our most recent examples of engagement photography, check out our new blog on Judy's website. Also you can find the corresponding subpages for Orange County engagement photography and for Los Angeles engagement photography sessions.
Engagement Photography Los Angeles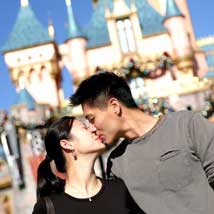 Engagement photography is a low-pressure chance for the wedding photographer to have fun and experiment. This, of course, should be done to amplify the couples personality in the photos. I love having fun couples, since my style reflects silly and fun engagement photography sessions. I try to find the intimate side of the couple, making the pictures unique to the engaged couple. A professional engagement photography session also permits the photographer and couple to establish a relationship and this leads to better wedding photography during the actual wedding day.

When doing engagement photography, I like to have more time than less, with interactive environments over scenic ones. I want places that are comfortable to the couple (like engagement photography at Disneyland or engagement photography in laguna beach). You can see the results in the photos above, where with the right attitude and approach even "photographically difficult" couples that hate cameras can still result in beautiful images. If you are interested in scheduling a professional engagement photography session (or e-session for short), please call me at 323.605.4224.




Engagement Photography Orange County
For wedding photojounralism Los Angeles, wedding photojounralism Orange County, wedding photograph tips, and
family photography
(family portrait), call me to book a date and ask any questions that you may have. I am a professional wedding photographer in Los Angeles and Orange County.