This site requires Macromedia Flash:
Get Macromedia Flash.
If you have Flash installed (you'll get this message if you don't have the most current version), click to view gallery
Contemporary Wedding Photography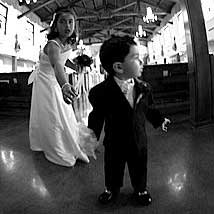 Contemporary wedding photography is a phrase that refers to the new trends in wedding photography (Orange County wedding photojournalism and Los Angeles are my areas of service), which of course is branching away from traditional wedding photography. Traditional wedding photography is often the typical posed shots (formals) that older generations like. On the other hand, contemporary wedding photography uses a combination of (or a transition from) formals/posed shots and (to) wedding photojournalism, which uses a candid documentary approach to getting unscripted shots. This can either be documentary or artistic, depending on the style of the photographer.
Wedding Photojournalism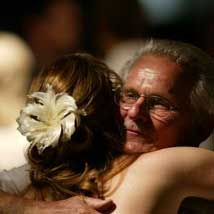 Wedding photojournalism is the new trend that is forming contemporary wedding photography. It is an approach that the photographer captures the day from a distance to influence the subjects as little as possible. By using a photojournalistic angle, the pictures are more genuine. It is easy to see the difference in posed photography versus photojournalism, since posed photos often involve unnatural poses and the subjects looking directly at the camera.
Popular Pages:
Wedding Photojournalism Gallery
Wedding Advice Articles
Sports Photography Gallery
Wedding photojournalism
For wedding photography (Los Angeles), wedding photography tips, Orange County wedding photojournalism ( & Los Angeles), wedding photojournalism (Orange County and Southern California), call Gavin at 323.605.4224 to check availability.
I also do concert, red carpet, fashion, corporate event, family portrait, professional engagement, and sports photography. I shoot using professional digital cameras with a variety of high-quality lenses, which means that you receive images faster and without the added costs of printing unnecessary proofs and from scanning film. My photos can be increased in size up to 8x10's, but most people like to have 4x6's or 5x7's.