How to deal with Formals (Family portraits)
Here are some tips with dealing with the often straining but ever necessary formal shots.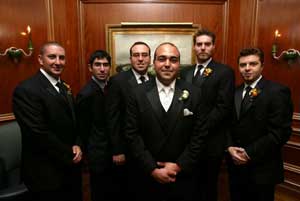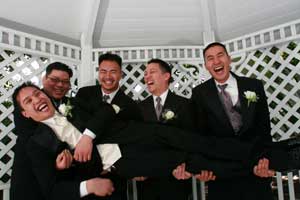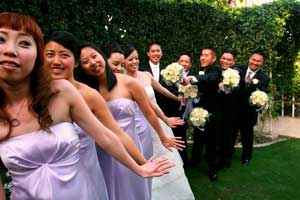 Designate an organizer

This could be someone you pay, but it's always nice to have a family member that knows everyone on both sides, or two people that know both sides. Photographers are good at taking pictures of whoever is in front of them, not at remembering every aunt and uncle. Now, of course it's great having one that can, but it's better to have the photographer concentrate on the photos (plus I have seen photographers lose their voice yelling over a crowd).

To meet before the ceremony or not...

One huge question is whether the bride and groom should mmet before the ceremony to take portraits before and save time. If you do, organize a special "meeting" that is just a moment between the bride and groom for the first look (and make sure the videographer and photographer get to capture it). This gives time for the bride and groom and bridal party shots, leaving only family shots during the ceremony to reception break. If you don't (for surprise, tradition, or both), make sure that you make time to take all the photos you need, but also make sure your guests are taken care of. Two hours for taking photos will go by fast. Two hours of waiting for the bridal party's entrance could take forever.

Make a prioritized shot list

This should have all of your shots in order of priority, but also in an order that is easy to transition from one to the next. You want to minimize the amount of, "Get out. Okay now get back in." If time runs short (it always does), you now have a fallback to cut out the less important shots.

Add time buffers, anywhere you can

Weddings go fast and almost every wedding has a snag or two. So if you have 15 minute buffers here and there, you can take your day a little easier and relax. It is stressful freaking out over maximizing your vendors worth (especially after spending so much) and having one snag give you a small heart attack. Plan your day to be relaxing if possible. Formals are a big issue because most families consider them inelastic. Time buffers make this easier to deal with.

Don't forget the light

You want to take formals before the sunset. If you take them during the sunset, you have a fading light source that has a window of 1/2 hour. So make sure that you leave enough time in case you run late. I remember one photographer losing his voice trying to rush people before the sunset. If there were 15-30 minutes more, the photos would be better and people would be less rushed.

Informal Formals

"Informal formals" are family and bridal party portraits that don't have the traditional look and feel. This can range from being artistic, spontaneous, funny, crazy, or dramatic. This requires a participating bridal party, time, and a little imagination. They can be extremely fun to do and they make great, original pictures. Ask if your photographer is willing to do this and make sure that you deliver your end (participation, extra time, patience, and a great attitude).
If you found this article useful, spread the love!
Please post this on websites, bulletin boards, myspace profiles, or if you are another photographer that wants to help his brides. I want the advice to spread and help brides make better decisions.

Click to highlight, copy (Ctrl-C), and paste (Ctrl-V) into a webpage or posting.


Or this:

<a href="http://www.gavinphotography.com/article-wedding-formals.html"> Wedding Photography Tips - How to deal with formals (family portraits) </a>

Thanks a bunch! Oh yeah, go ahead and give me feedback on unanswered questions or if this article needs help.